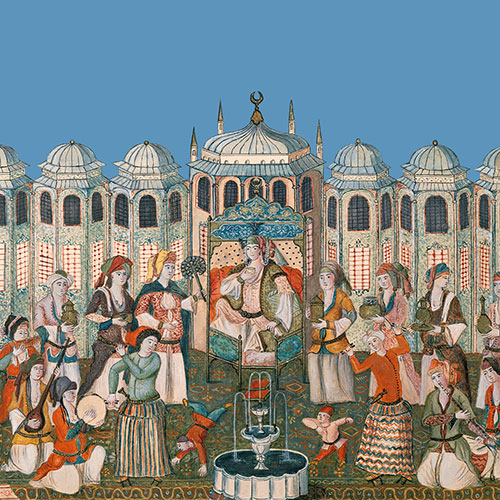 Conference
Media of Performance and Intersecting Identities of Music in Istanbul
1 - 2 November 2019
Suna and İnan Kıraç Foundation Istanbul Research Institute continues its activities on music, which they have initiated with "Istanbul and Music" Studies Program (IMSP) in 2018, with a multidisciplinary and international conference. With the "Media of Performance and Intersecting Identities of Music in Istanbul" conference, the institute aims to form a basis for thinking upon various people groups' reception of music in different periods of the city, performance of music and media of deliberation, the movement of all these within the city, and their narratives about the city.

Researchers from several disciplines participating in "Media of Performance and Intersecting Identities of Music in Istanbul" address issues such as the religious, secular, military spheres and places in which music is formed in Istanbul, performers of music, patrons of composers and the music, the extent to which music is involved in public entertainment, its existence and prevalence within the city, the documentation of music and the terms used in deliberating on music.

On November 1-2, 2019, "Istanbul and Music" Studies Program coordinated by Derya Türkan, will be holding the conference at the Pera Museum, focusing on topics such as the role of music in rituals of various beliefs; music, as an entertainment and pastime activity, thus, in promenades, meclises, coffeehouses; effects of technologies like radio, gramophone record, phonograph on space and circulation of music; the arrival of notation to Istanbul and music education; the role of music in formation and expression of identity. Moreover, details of the works on Nuri Duyguer and Alâeddin Yavaşça collections, which have been recently donated to Istanbul Research Institute, are going to be presented to the academic community for the first time.
Click here to take a look at the conference program.
The conference will take place at the Pera Museum Auditorium. Free admission; drop in. Speeches will be in Turkish and English with simultaneous translation.