Cities of the Three Books
Jerusalem and the Holy Land in 19th Century Photographs
09 September - 19 October 2008
The Album of Grand Vizier Kâmil Pasha and Local Photographers
The photograph album presented to Grand Vizier Kâmil Pasha encompasses 111 images of the Holy Land. A portion of these photographs was taken by Garabed Krikorian of the Jerusalem Armenian community. The person who introduced Krikorian to the art of photography was none other than Yessayi Garabedian, the first local photographer of Jerusalem. He established his own photographic studio in 1859 within the Jerusalem Armenian Monastery. Mendel John Diness, Peter Bergheim, Davud Sabunci, Leon Katz, Khalil Raad and Yeshayahu Raffalovich are recognized as outstanding masters of local photography in late-19th century.
Jerusalem: The City of Faith and Passion
Prophets and kings constructed hand in hand the mythology of Jerusalem. The thrones of the heavens and earth were set in this city. From David to Solomon, and from Jesus Christ to Muhammad, it was the singular pole in a geography of faith. In the Middle Ages, it replaced Rome, which regarded itself as the navel of the earth. Jerusalem was the dream of those who embraced the Cross and the indispensable, holy land of Umayyad, Abbasid, Ayyubid, Fatimid caliphs, as well as Mamluk and Seljukid sultans. The city found peace under Ottoman rule from 1516 until 1917. Yet, before and after that time, the tears of humanity did not subside.
First Photographers in the Holy Land
In 1833, British explorer Frederick Catherwood used the camera lucida in the Holy Land and produced the very first images of the Noble Sanctuary (Haram al-Sharif). Catherwood, who unveiled the Sacred, was followed by Scottish minister Alexander Keith. Keith's goal was to corroborate the text of the Holy Bible with images. This concept set the groundwork for British picturesque photography, which was particular to the Orient. In 1844, Joseph-Philibert Girault de Prangey experimented with a different style and focused on Islamic architecture in the Holy Land. Thus came along the first products of French documentary photography vis-à-vis the British picturesque. The photographers who convey to us today the history of the Holy Land have, to a large extent, emerged out of this school.
Jaffa, Ramleh, Gaza
Jaffa, Ramleh and Gaza, which orbit the Holy Jerusalem, seem to share a common fate with the city. Whenever the Holy City changed hands, the others followed suit. Jaffa was the commercial port of Jerusalem. Once Umayyad caliph Suleiman bin Abdul Malik established Ramleh, Jaffa gained further importance. Gaza, on the other hand, was the primary place of accommodation for merchants travelling from Mecca and served as a bridge between Akabe and the route of the Hajj (Pilgrimage). In terms of administration, Gaza was a "Sancak", or a sub-province that included Ramleh. All three settlements remained under Ottoman rule between 1516 and 1917.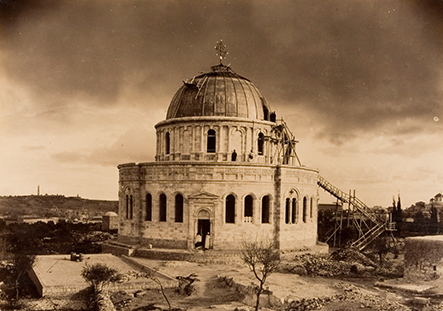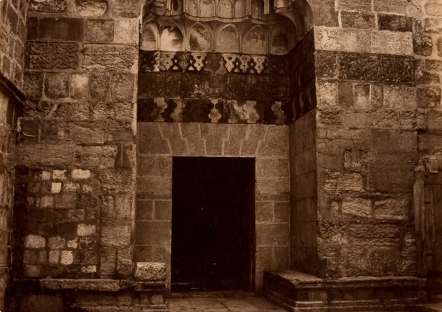 Exhibition Catalogue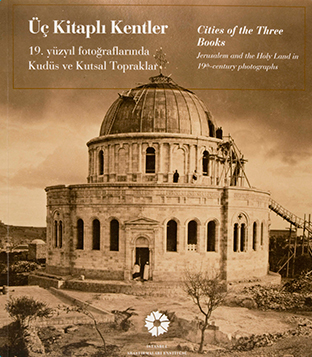 Cities of the Three Books
Jerusalem and the Holy Land in 19th-century photographs