D`Aronco, Ottoman Architect
Projects for İstanbul 1893 – 1909. Restorations, projects, books
18 September - 15 December 2006
The "D'Aronco, Ottoman Architect. Projects for Istanbul, 1893-1909" exhibition compiles projects, drawings and sketches by Italian architect Raimondo D'Aronco (Gemona 1857-Sanremo 1932) who lived in Istanbul, the cosmopolitan capital of the Ottoman Empire, between 1839 and 1909 and built numerous significant monuments. The exhibition offers the chance of viewing these pieces together in the same city 100 years later. As his majestic architectural monuments demonstrate, D'Aronco was a part of Europe's international Art Nouveau movement which brought together diverse cultures over the centuries, and contributed to the movement with his reflections on Islamic-Ottoman art.
D'Aronco's contribution becomes all the more relevant because it's a part of a theme that characterizes architectural research based in Vienna: The theme emerges as a rediscovery of popular art with genius loci, aiming to reinvigorate the narrative styles that define national identity through an interaction of languages and cultures. Within this extremely rich context, D'Aronco's oeuvre bridges the cultural discussions in central Europe and Islamic art. Fulfilling the role of a bridge-maker, the architect follows the pattern of curiosity in East-West interaction that's echoed not only in Hungary but in Vienna as well.
D'Aronco's propositions are not limited to decorative dimensions but involve space as an organic whole. Accordingly, between 1903 and 1906, he built numerous waterfront mansions on the Bosphorus for a select group of customers affiliated with the palace (a fountain, mausoleum and library on the Yıldız Slope, library and collection hall in the Memduh Pasha waterfront mansion in Arnavutköy, Cemil Bey's House in Kireçburnu, prayer room in Galata, Italian Embassy in Tarabya) which give us a chance to elucidate some of the main themes of his research that aimed to innovate Turkish architectural culture.
Paving the way for an introduction into European art for modernisation, D'Aronco proves the feasibility to create a spirit of "Turkishness." In other words, he adopts new building techniques and new materials while not ignoring tradition from which he benefits without nostalgia.
His knowledge of Ottoman architectural history and techniques largely matured during his restoration practices because following the 1894 earthquake, D'Aronco was commissioned by the sultan to work on the restoration of numerous monuments in the capital, including Hagia Sophia and Mihrimah Sultan Mosque built by Mimar Sinan.
D'Aronco's experience in practice is combined with the theoretical foundations of critical-historical analyses evidenced by books on western themes as well as those on Islamic art and architecture which he'd purchased for his library.  This valuable material that gives a profound understanding of the cultural context in which the architect worked, was donated to Udine City Library, following the clear statement in his will. The drawings and sketches preserved at the Udine Modern Art Gallery emerge as an internationally significant architectural archive in scientific and cultural terms.
Throughout his active years, D'Aronco used Ottoman revival forms (Janissary Museum and Ministry of Agriculture Building in Sultanahmet Square, Imperial School of Medicine Building) and was engaged in the Secession Movement in Central Europe, hence catching up with the developments of his time. He manages to keep in touch without giving up on his personal interpretative perspective that demonstrates a "narrative unease" that keeps him going without a moment's rest.
D'Aronco's mastery in drawing and construction practice that he developed in his family's construction business supports his vigorous and creative imagination. His project drawings, sketches and books are a testament to his activities as an imperial architecture at the Sublime Porte. At the exhibition, these works are arranged in an unbroken web of connections with intersections and allusions, just like in a draft and project-making efforts. The materials put on display are a part of the cultural assets of the cultural institutions in Udine seizing a chance for international relevance thanks to the exhibition.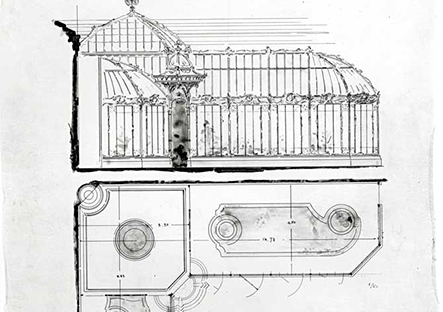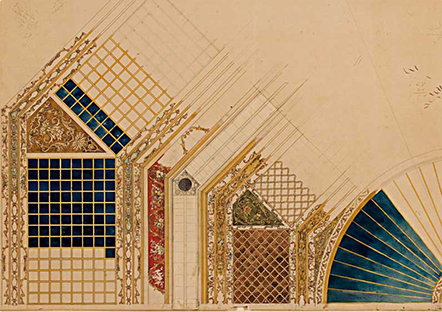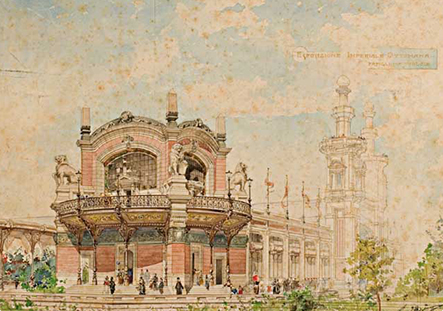 Exhibition Catalogue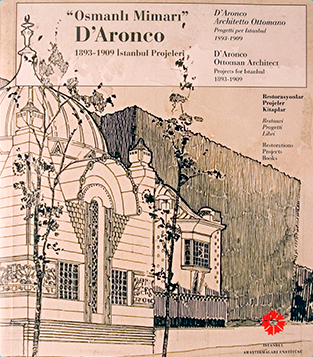 Ottoman Architect' D`Aronco
Projects for İstanbul 1893 – 1909, Restorations, projects, books