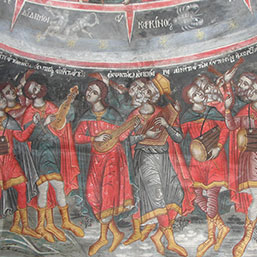 Concert
Rum Composers: Breaths of Constantinople, Sounds of Istanbul
17 November 2017
/ 19:30

The Galata Music Projects  is a collaborative initiative, founded by Georgios Marinakis and driven by his long-standing devotion to music. The musical mosaic created and presented by the Galata Music Projects includes classical Ottoman and Eastern Mediterranean folk music and elements of the "politiko" musical genre combined with the modern influences of jazz and Georgios's own original compositions.
In Istanbul, Ottoman musical traditions provided a meeting space for Turks and members of other ethnic groups, among them Greeks, Armenians, Jews, and Arabs. They served as a shared platform not only for entertainment, but also as purveyors of inspiration and expression among the elite and other social strata.
Greek composers and virtuosos had played a pivotal role in Istanbul's multicultural musical tradition since Byzantine times. They along with Syrians and Egyptians largely shaped Byzantine liturgical music. Later, Byzantine, Persian, and other Middle Eastern music as well as the Mevlevi and Bektaşi religious traditions became major influences on the urban musical tradition of Istanbul. Until the first half of the seventeenth century, Greek music was performed at aristocratic social gatherings as well as in the port taverns of Galata. At the same time, Greek artistic expression infiltrated through liturgical chanting and religious compositions
Greek composers became especially prominent in the Ottoman court during the second half of the seventeenth century, beginning with Tanburi Angeli, an exceptional musician, composer, and teacher of the great Dimitri Kandemir. They were followed by a plethora of accomplished musicians and composers, among them Zaharya Hanende, Petros Lambadarios (or Petrakis), the violinist Tzortzis, Ilias, Stavrakis Hanende, Andonis Kyriazis, Nikolakis, and Vasilakis and later the Batzanos brothers.
Rum Composers: Breaths of Constantinople, Sounds of Istanbul concert is being held in conjunction with the symposium Discovering Byzantium in Istanbul: Scholars, Institutions, and Challenges, 1800–1955, hosted by the Istanbul Research Institute. In accordance, Galata Music Projects will present works by Ottoman Greek composers of the nineteenth century. By bringing to the fore these composers' melodic richness and artistic sensitivity, this unique musical genre is presented not as outdated and obsolete, but as a contemporary and living musical engagement with the city's multicultural heritage.
Rum Composers: Breaths of Constantinople, Sounds of Istanbul
| | |
| --- | --- |
| 1. Epi si heri Keharitomeni. Ihos plagios aʹ | Xenos Koronis (14th Century) |
|     Ἐπὶ σοὶ χαίρει, Κεχαριτωμένη. Ἦχος πλάγιος αʹ |   |
| 2. Acemaşiran Peşrevi | Tanburî Angeli (1615? – 1690) |
| 3. Hüseyni Peşrevi | Lavtacı Andon Efendi (? – 1925?) |
| 4. Hüseyni Saz Semaisi | Lavtacı Andon Efendi (? – 1925?) |
| 5. Hüseyni Oyun Havası (Çeçen Kızı) | Tanburi Cemil Bey (1873 – 1916) |
| 6. Kürdilihicazkar Peşrevi | Kemençeci Vasilaki Efendi (1845 – 1907) |
| 7. Kürdilihicazkar Saz Semaisi | Kemeni Tatyos Efendi (1858 – 1913) |
| 8. Kürdilihicazkar Longa | Kemani Sebuh (1828 – 1894) |
| 9. Şehnaz Saz Semaisi | Kemençeci Nikolaki Efendi (1845 – 1915) |
| 10. Hicaz Mandra   | Lavtacı Andon Efendi (? – 1925?) |
| 11. Saba Oyun Havası | Udi Yorgo Bacanos (1900 – 1977) |
Musicians
Özer Özel: Tanbur
Aslıhan Eruzun Özel:  Kemancha
Ali Tan: Ney
Oray Yay: Percussion
Georgios Marinakis: Oud
Free of admissions, drop in. This event will take place in Pera Café.