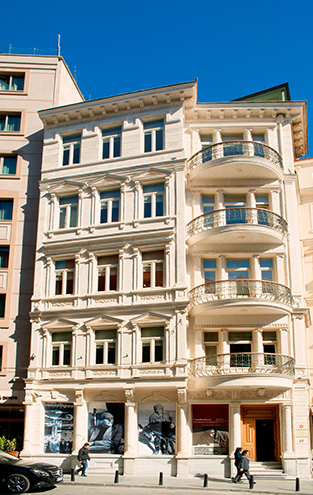 About the İstanbul Research Institute Library
İstanbul Research Institute Library was set up in 2006 and its collection has been constantly enriched and developed since then. The Library opened its door to users in March 2007. Suna and İnan Kıraç Foundation, İstanbul Research Institute Library aims to meet researchers' information needs in their fields, to enrich its collection according to its mission, to assist in scientific work in İstanbul and in whole Turkey and to become a user friendly library.

The Library is divided in different sections according to subjects and divisions.

The collection is divided as follows:

1st floor: Atatürk and the Republic Studies Section
İstanbul Library
General Reference Library

2nd floor: Ottoman Studies Section
Şevket Rado Library
Semavi Eyice Library
Pera Museum Art Library

3rd floor: Byzantine Studies Section
Semavi Eyice Library

Majority of Serials are located in the store in 1st floor at the Library but every floor houses serials in their subject areas.
Library Hours:
Monday - Friday 09.00 - 17.30
Wednesday 09.00 - 20.00
Saturday 10.30 - 17.00
(Closed on Sundays.)